South Africa's President Re-Elected Despite Scandal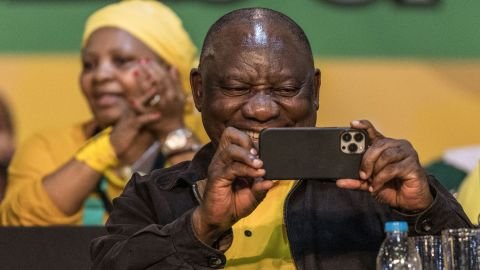 South Africa's President Re-Elected Despite Scandal
South Africa's president Cyril Ramaphosa has been re-elected as leader of the governing African National Congress, securing a second term despite a damaging scandal over a theft at his private game farm.
Ramaphosa won with 2,476 votes from party delegates against 1,897 for his only rival for the leadership, Zweli Mkhize, a former health minister, according to results announced at an ANC meeting in Johannesburg on Monday. Backers of the president also won four of six other senior party positions.
The unionist turned businessman had been widely tipped to regain the leadership of the movement that has governed South Africa since 1994, after he replaced Jacob Zuma in 2017 at the height of the country's worst corruption scandal and pledged to clean up the state.
But Ramaphosa's path to re-election was clouded by divisions in the ANC and a panel report that said he may have committed serious misconduct over the fallout from the 2020 theft of $580,000 in cash that was stuffed in a sofa at his Phala Phala farm.
He came close to resigning as president this month, after the report to South Africa's parliament said he had a case to answer for possible impeachment over the Phala Phala cash.
But last week, the ANC's majority in parliament blocked an impeachment investigation, and ahead of this weekend's vote, Ramaphosa's party enemies including allies of Zuma failed to rally around a rival candidate. Ramaphosa has always denied wrongdoing over the theft.