"We Need A Stingy Man Like Peter Obi To Run Nigeria", Popular Politician Replies Tinubu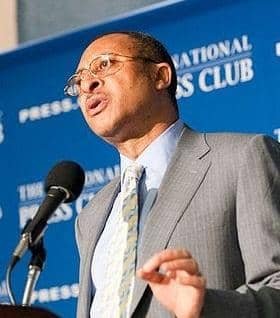 "We Need A Stingy Man Like Peter Obi To Run Nigeria", Popular Politician Replies Tinubu
Pat Utomi, professor of political economy, says Nigeria needs a stingy man like Peter Obi, presidential candidate of the Labour Party (LP), to run its affairs.
At a presidential rally in Akure, Ondo state capital, Bola Tinubu, candidate of the All Progressives Congress (APC), described Obi as a stingy man.
Tinubu said Obi's philosophy of saving state funds is wicked and a recipe for underdevelopment.
Speaking on Sunrise Daily, a Channels Television programme, on Friday, Utomi said Obi has a transformational mindset needed to reshape Nigeria.
Utomi said Tinubu and Atiku Abubakar of the Peoples Democratic Party (PDP) cannot take Nigeria forward.
"The reason I would not touch the candidate of the APC or PDP is that I know they will not take Nigeria forward. They will get into these actions, and their friends will get rich but Nigeria would still be stuck," he said.
"So, we needed a new kind of platform. That was the first thing that recommended a new order. Peter Obi came along. Even though he has played in the system, there are some new strengths he brought into the system.
"If you look at his Anambra experience, Peter Obi had to rebuild democracy. In the state, they used to lock their governors in toilets and they have godfathers cart away [money].
"Schools were closed. Everything was shut. For two years, they didn't go to school or something. Pension and benefits weren't paid. Then, he came to that process, and Anambra became a new kind of place. Every pension was paid.
"From what I know of him, he has a transformational mindset. Something got me about the fact that someone said he is stingy, my goodness, the only thing you need now is a stingy man to run Nigeria, the guys are bleeding the place. [He needs] to stop the bleeding."