Top Newspaper Headlines Today, Monday, 27th March 2023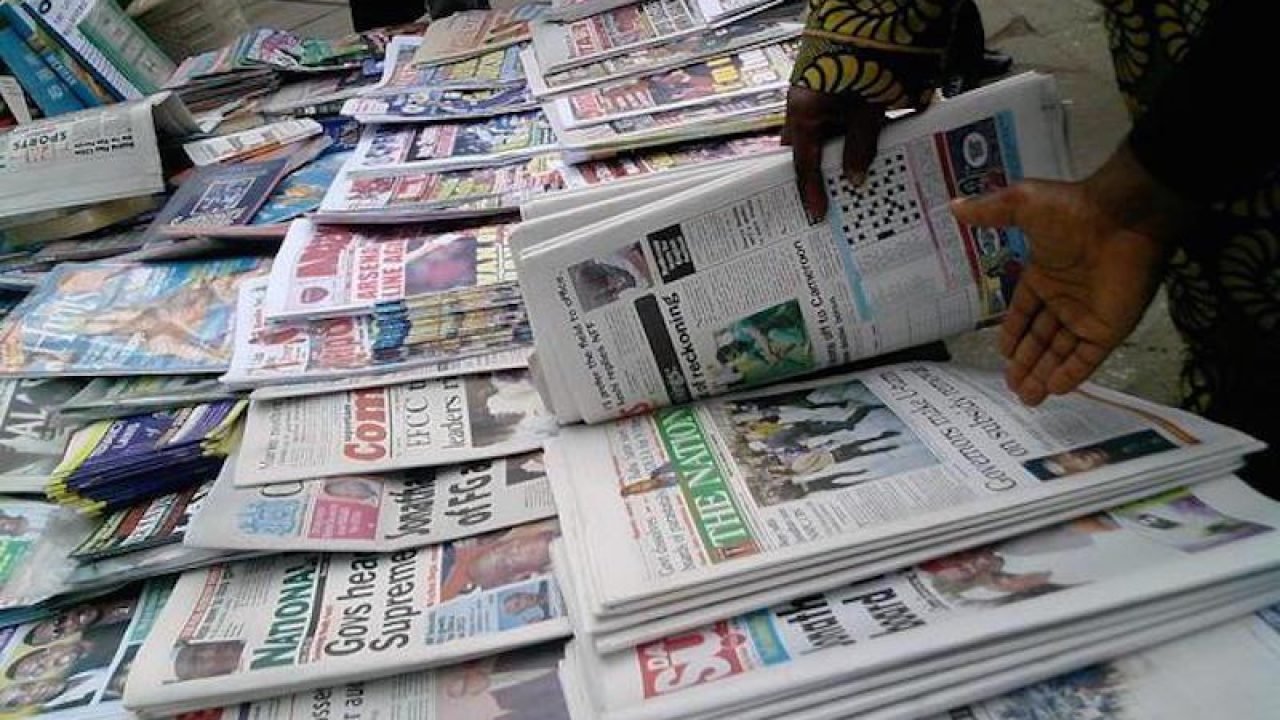 Top Newspaper Headlines Today, Monday, 27th March 2023
Onyxnewsng has compiled some newspaper headlines for Monday, 27th March 2023.
Read below…
Punch Newspaper Headlines
First Citizens bank to acquire collapsed SVB
Niger Delta ex-agitators to protest over stipend stoppage
Meningitis, cholera kill 88, experts call for action
Court blocks Oyo govts accounts in four banks over N3.4 billion debt
AFCON qualifiers: Peseiro hopeful of defeating Guinea-Bissau
Japan urges China to release citizen detained in Beijing
590 repentant Boko Haram terrorists end course, apologise for killings
Adamawa poll: Binani demands review of 16 LGs results
The Nation Newspaper Headlines
Post-poll crisis: Ayu under pressure to quit as PDP chair
How unbundling of power, railway will boost economy, by experts
19 Constitution Review Bills rejected by the President
Who becomes next Senate President?
Allow peaceful transmission of power, VC tells Nigerians
Census to begin May 3, says Fed Govt
Buhari, Tinubu, Lawan, governors mourn Diya
WAEC suspends manual confirmation of results
Vanguard Newspaper Headlines
Onoh accuses Ezeife of inciting ethnic tension among Igbo, Yoruba
Social justice key to national integration, devt 'Idigbe
Yoruba unity key to devt, progress ' YOV
Nothing must truncate May 29 hand-over 'Group
Fayemi advocates water security in Africa at UN conference
CNPP asks Buhari, security agencies to investigate CJN's London trip to save judiciary
Presidential poll: Allow RECs to issue CTC of Form EC8A, PDP tells INEC
Buhari's partial devolution of powers
Guardian Newspaper Headlines
Atiku hails UK envoy, says DSS must arrest Fani-Kayode for inciting comments
DSS intercepts suspected criminal gangs in Kogi, Adamawa, others
Court blocks Oyo State Goverment's accounts in four banks over N3.4bn debt
IOM, NHRC, urges more action against gross human rights violations
Abia poll: Don't witch-hunt your opponents, Nkire tells Alex Otti
African Diaspora Conference: Why Africa needs knowledge transfer more than grants, by Aboyeji, Ghaim
NLC reconsiders strike as CBN opens vault to banks
CBN's new lending rate to raise construction, material cost
Thisday Newspaper Headlines
Deregulation: Brace for N750/Litre Petrol When Subsidy is Removed, Stakeholders Tell Nigerians
Nigerians Grieve as General Oladipo Diya Passes at 78
UNN Honours Zenith Bank CEO, Ebenezer Onyeagwu with Doctoral Degree
Irabor: 51,828 Boko Haram Fighters, Family Members Surrender in 18 Months
Nigerians Tasked to Embrace Blue Economy for Job Creation
Arewa Youths: Osun Appeal Court Decision Victory for Democracy
Skirmishes: Kwara Shut Down Ilorin International Market
Second Term: Makinde Promises to Work Harder for Oyo People
Leadership Newspaper Headlines
Hate Speech: Fani-Kayode Blasts British Envoy, Says He Can't Be Intimidated By Visa Ban Threat
Buni's Socio-economic Transformation Policies Key To APC's Victory ' Lawan
Workers' Welfare, Performance, Gov Buni's Priority ' Yobe HoS
IPAC Endorses Conduct Of Governorship, Other 2023 Elections In Yobe
My Victory, Testimony Of Our Outstanding Performance In Yobe ' Buni exams in Damaturu.
Train Accident: Lagos Files Manslaughter Charges Against Staff Bus Driver
$618m AfDB Tech Fund: Adeleke Creates Support Desk For Entrepreneurs