BREAKING: Dino Melaye Wins Kogi PDP Governorship Candidate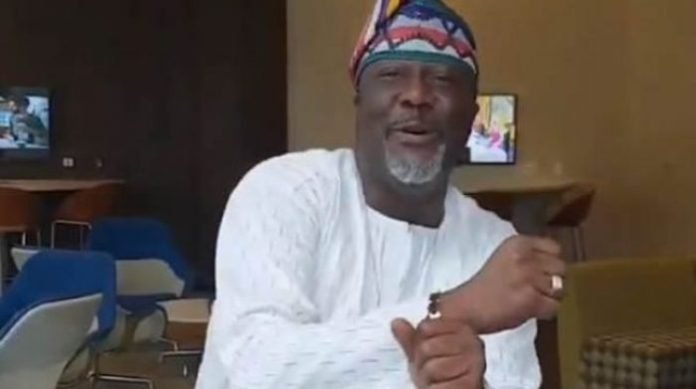 BREAKING: Dino Melaye Wins Kogi PDP Governorship Candidate
A former Kogi West Senator, Dino Melaye, has won the Peoples Democratic Party, PDP, governorship primaries in Kogi State, northcentral Nigeria.
Dino Melaye was declared the winner of the Kogi PDP Governorship Primary Election by the returning officer on Sunday, April 16, 2023.
The former Nigerian senator scored three hundred and thirteen (313) votes to defeat Idoko Ilonah, who had one hundred and twenty-four (124) votes. Others, Awoniyi Sunday had 77 votes while Musa Wada had 56 votes
Dino will be up against Usman Ododo, the flagbearer of the All Progressives Congress (APC), Nigeria's ruling party, for the election.
The Rivers Governor warned that the PDP would fail if Melaye emerged as its governorship candidate.
Addressing selected journalists in Port Harcourt, Rivers State Capital, Wike stressed that the former Kogi West Senator lacked the capacity to govern a state.
Wike's words: "If you give Dino the governorship ticket, you know he will fail; there is no way he can win. Why will Kogi people say they would vote for a candidate like Dino?
"People can't vote for Dino because he is from Kogi; Dino does not have what it takes to govern the state or be a governor. It's not by coming on television to act drama or insult Wike."
Reacting, in an interview on AIT, Melaye said: "Wike has no iota of integrity. Wike was calling me when Atiku Abubakar was to announce his running mate. I have records, and I'm going to print them out. I'm waiting for him. He called me 19 times in two hours, begging us to convince Atiku Abubakar to make him the vice presidential candidate.
"He was at the airport. I have the video. He spent hours in the airport waiting for me to call him that Atiku Abubakar had picked him as the running mate. He was at the airport here waiting, calling me. I have witnesses. He was begging, promising heaven and earth that Atiku should announce him. It was around 1 or so that I called him that, Oga, nobody go give you vice president. That's when he left and flew back."
Watch video of Dino Melaye response to Wike below…
"Wike called me 19 times in 2 hours begging me to convince Atiku to make him his running mate". Dino Melaye says in an exclusive interview with AIT. pic.twitter.com/X6XyO7bGxQ

— AIT (@AIT_Online) April 11, 2023