BREAKING: Stage Collapses During Inauguration Ceremony (Video)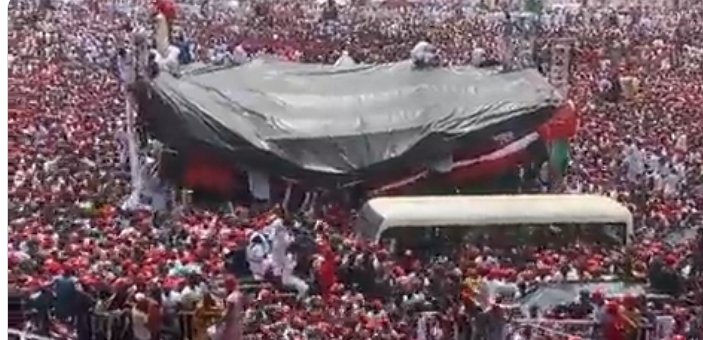 BREAKING: Stage Collapses During Inauguration Ceremony (Video)
The stage collapsed today during the highly anticipated swearing-in ceremony of Kano Governor Yusuf Abba, his deputy, and the acting chief judge.
The incident happened at the heart of Kano State, leaving the attendees and officials in a panic.
Thankfully, despite the chaos and pandemonium that ensued, all individuals present on the podium managed to escape unharmed.
The ceremony, which marked a momentous occasion for Kano State, was being held to formally inaugurate Governor Yusuf Abba, who had recently assumed office.
The governor, accompanied by his deputy and the acting chief judge, took their positions on the stage as they prepared to take the oath of office.
However, just moments before the proceedings were set to begin, disaster struck.
Witnesses recount a scene of sudden chaos as the stage, overloaded with the weight of the attendees and the officials, collapsed under the immense pressure.
Screams filled the air as people rushed to safety, fearing for their lives. However, the swift actions of the security personnel and emergency responders prevented any serious injuries or casualties.
Watch video below:
VIDEO: Stage collapses at swearing-in ceremony in Kano

Credit: Channels TV pic.twitter.com/e2bsGxtHUZ

— Nigerian Tribune (@nigeriantribune) May 29, 2023