BREAKING: Female Prime Minister Emerges In UK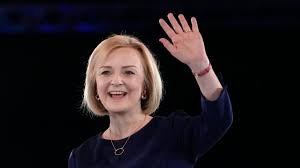 BREAKING: Female Prime Minister Emerges In UK
On Monday, Liz Truss was announced as the UK's next prime minister, after winning an internal leadership contest of the ruling Conservative party.
The foreign secretary beat her rival, former finance minister Rishi Sunak, by 81,326 votes to 60,399, after a summer-long internal contest sparked by Boris Johnson's resignation in July.
Meanwhile, Onyxnewsng reports that the president of the European Commission, Ursula von der Leyen has congratulated Liz Truss on her election as the next prime minister.
He also said that the EU expects the UK to abide by its Brexit agreements. Added that Truss, as foreign secretary, introduced the Northern Ireland protocol bill, which would allow the UK government to abandon parts of the protocol, in breach of its deal with the EU.