JUST IN: Buhari's Convoy Attacked In Kano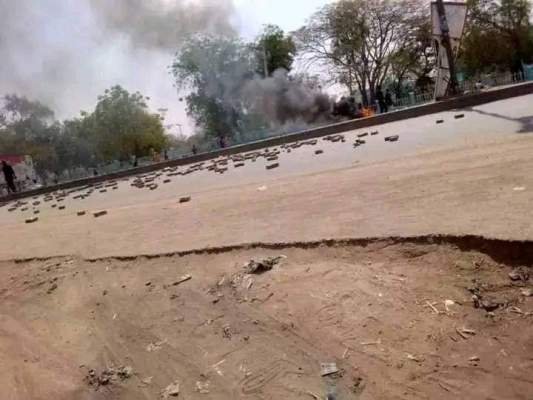 JUST IN: Buhari's Convoy Attacked In Kano
The people of Kano, on Monday, tactically refused to give an embracing welcome to President Muhammadu Buhari's visit during his commissioning of eight projects in the ancient city of Kano.
Usually, at every visit of the President to the state, large crowds would troop out to give him a rousing welcome, but this time around, things completely changed as residents shunned his visit.
It will be recalled that President Buhari who enjoyed a red carpet reception whenever he visited the state, tactically avoided the roads after arriving in Kano and flew by Helicopter from the airport straight to Dala Inland Dry Port project site and to the Emir's Palace.
Unconfirmed sources hinted that at Hototo quarters, an alleged angry resident barricaded the road leading to one of the project sites in the area with stones and inter-lock blocks, attacking some vehicles in the convoy.
However, the situation was later brought under control after tear gas was fired by the police to disperse the crowd who were already burning tyres.
It was also stated by another source that the President had left the scene of the incident when some convoys followed him were allegedly attacked with stones.
As at the time of filling this report,
No confirmation of arrest of any suspects by the Police, as when filling this report.
Some sources stated that the ugly incident might, however, unconnected to what majority of people described as unprecedented hardship forced on the people by Buhari's Government especially, the recent redesigned naira notes and the initial January 31 deadline issued by the CBN.
Nigerian Tribune