Video: "Ashewo Gambia, Ex-convict" – Actress Iyabo Ojo Fires Back At Lizzy Anjorin For Calling Her Prostitute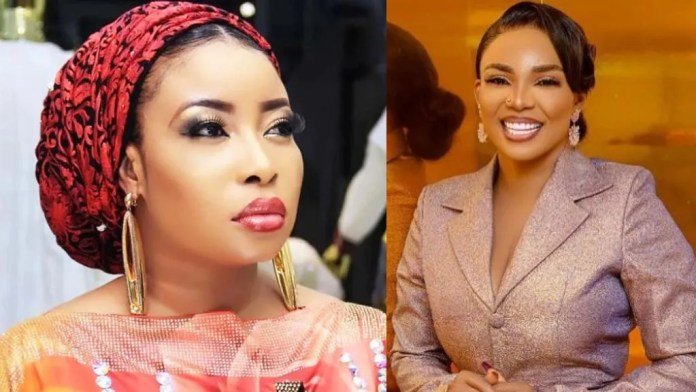 Video: "Ashewo Gambia, Ex-convict" – Actress Iyabo Ojo Fires Back At Lizzy Anjorin For Calling Her Prostitute
Popular Nollywood actress Iyabo Ojo has fired back at her colleague, Lizzy Anjorin after she called her a prostitute.
Lizzy Anjorin got social abuzz following a video she shared online where she revealed Iyabo Ojo's failed businesses and how she uses her private part to make money by sleeping with rich men.
According to Lizzy Anjorin, Iyabo Ojo had a threesome with Apostle Suleman and slept with politician, Dino Melaye.
This outburst from Lizzy Anjorin comes after Iyabo Ojo in a video that surfaced online mocks Lizzy Anjorin's style of marketing following her visit to actress Lola Alao's place in Canada who does the same clothing business as Lizzy.
Reacting to the allegations made against her by Lizzy Anjorin, Iyabo Ojo via the insta-stories section of her official Instagram page throws insults at Lizzy Anjorin by calling her several bad names.
Iyabo Ojo in the post refers to Lizzy Anjorin as ex-convict who had 4some in Southy with her smelling pu$$y. She added that the fight between her and Lizzy is going to be a movie.
Iyabo Ojo wrote; "Movie Alert loading TITLE L: Ashewo Gambia, olu aye Ex..convit 4some southy, oni doti ele se adiye, oni Oni panda woro-woro, iya elepe Adini agbaye olowo gbona olobo latrine, smello Aya oko oni moimoi elepo, a.k.a jigolo of africa oni damask gingan, oko werey alaso blinkblink, lai of our time, Dj yk mule jor Alabisinwin oni update ofo, eleje gbona oni ibe lenu shukuti wa fe la Location: You go explain, taya Starring: Yeyebrity actress: Producer: Queen Mother crusing on a 360 degresss atmosphere loading."
Watch Lizzy Anjorin's video here.