BREAKING: Tinubu, Sanwoolu Sighted In Guinea Amidst Dual Citizenship Report (Video)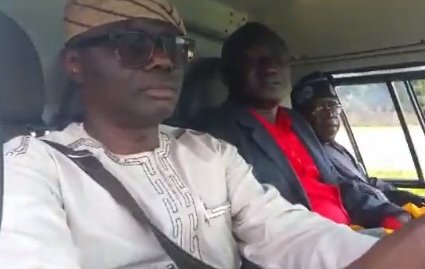 BREAKING: Tinubu, Sanwoolu Sighted In Guinea Amidst Dual Citizenship Report (Video)
President-elect, Asiwaju Bola Ahmed Tinubu has been spotted in Guinea Conakry with the governor of Lagos state, Babajide Sanwoolu.
This is coming few days after reports emerged that Tinubu has dual citizenship; with evidence showing a passport that carries his details and confirms his state as a citizen of the country.
This medium reported that Tinubu may face disqualification as a presidential candidate because the constitution of Nigeria doesn't allow anyone with a dual citizenship to hold an elective position in the country.
A Twitter user simply by the name, of Chief Ikukuoma, who shared the video of Tinubu and Sanwo-Olu on Tuesday night, called on the Nigerian government to quickly investigate the duo.
Ikukuoma alleged that Guinea Conakry is the headquarters of cocaine in Africa.
His tweet has so far got over 1,600 retweets and more than 165 comments.
He wrote on Twitter, "Nigerian government should quickly invite Bola Amoda Tinubu and Babajide Sanwo-Olu and investigate them for ties with Guinea Conakry which is the Headquarters of cocaine in Africa. This was Bola Ahmed Tinubu and Sanwoolu in the said country !!! We can't afford to become a Narco State
"The coat of arms on the body of the helicopter has the coat of Guinea Conakry government which Bola Amoda Tinubu is holding their diplomatic passport as unveiled by David Hundeyin."
Guinea connection? I am not saying they should not go to Guinea but Nigerian government need to thoroughly investigate Tinubu and his Guinea connection because it's not a joke that Guinea is the Narcotics hub of Africa ???? pic.twitter.com/AWvOy1JkhU

— Zedicus Zul????️‍????️???? (@DwizardKing) April 18, 2023