Mohbad Cause of Death: The Truth is Out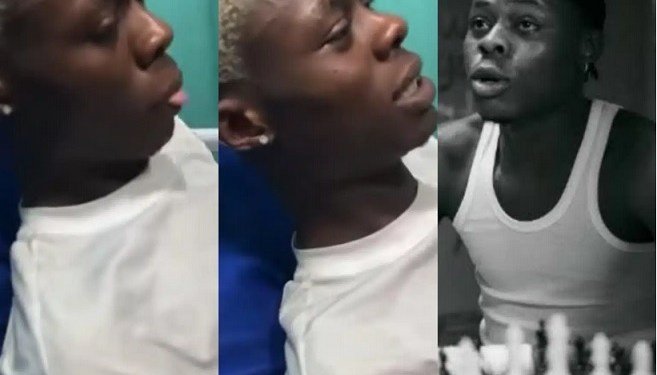 Mohbad Cause of Death: The Truth is Out
Mohbad cause of death, what killed Mohbad has finally emerged.
The Nigerian street hop singer and former rapper under Naira Marley's Marlian Music record label, Ilerioluwa Oladimeji Aloba, popularly known as Mohbad is dead.
Mohbad died in the early hours of Tuesday, September 12, 2023.
Mohbad cause of death, what killed Mohbad?
According to PulseNG, the rapper sadly passed away from an ear infection. Sources from the singer's team told the news platform that he took a trip to the hospital in the early hours of Tuesday, September 12, for treatment, after which he was administered an injection.
PulseNG also claimed that Aloba was taken to the hospital after sustaining injuries however, he "reportedly passed out and did not wake up after." Reports also claim that the singer died from a middle ear infection called Otitis. This causes immense redness, swelling, and excess fluid in one's eardrum.
Mohbad Suicide Attempt
In a chat with popular media personality, Chude Jideonwo, another singer and friend to the late Mohbad, Bella Shmurda said Mohbad attempted to commit suicide during his ordeal but was prevented by friends.
He said, "There was a time, me and Mohbad were in an apartment and Mohbad was like he wanted to jump from the upstairs because of the issues he was having with his record label. We held him by the window. Mohbad had almost jumped, it was his girlfriend that entered the room and saw him sitting down at the window."
Mohbad is dead: Who is Mohbad?
Mohbad had been a rising star in the Nigerian music scene, known for his distinctive blend of pop, Afrobeat, and hip-hop. He also gained recognition for his talent as a songwriter and lyricist.
The Mohbad released his debut album titled "Imole," which achieved considerable commercial success in 2022. The album featured hit tracks like "See My Benz," "Kimi," and "Ronaldo," solidifying his position in the industry.
Mohbad Naira Marley rift and Marlian Music exit
The late Mohbad's management announced his exit from the record label on Tuesday, October 25, as his legal team released a statement asserting that Mohbad's exit was as a result of the constant attacks he received, which were orchestrated by Naira Marley, and unpaid royalties since 2019.
The "KPK" crooner's exit comes weeks after he took to Twitter on October 5, to reveal bloodied bodies, claiming that it was as a result of being assaulted by the Marlian crew, because he requested to have his manager changed.
"Just because I want to change my manager who is their brother, see what they did to me at Marlian House," he had tweeted, saying "World pls help me oo I'm dying inside."
Revealing that he was at the hospital for a CT Scan for head impact and chest X-ray as a result of the assault, he added "I'm not high oo cos that is what dey always say just to die down everything."
Mohbad accused Naira Marley of being present during the assault and doing nothing to stop it.
The artiste also accused Marlian Music record label of refusing to pay him his royalties from monetised intellectual content and advances as mutually agreed since 2019.
"In contravention of the terms of the arrangement between our client and yourself, you have failed to pay any advances as mutually agreed by both parties since 2019 till date;
"You have also failed to pay all royalties due our client from all his intellectual property works monetized, released and utilised by you from 2019 till date," the document read.
Singer Mohbad Cause of Death Linked to Juju
On the flip side, in a turn that could easily be described as adding fuel to an already raging fire, a screenshot from a WhatsApp conversation shared by popular Instagram blog Wahala Network purports an entirely different story. According to the widely circulated screenshot, it is alleged that the rapper fell victim to an act of voodoo, locally known as 'juju,' during a recent performance in Ikorodu, Lagos State. This alternative narrative has ignited debates and instigated more questions than answers, as fans and industry experts alike grapple with the obscurity surrounding Mohbad's sudden demise.
https://x.com/Redfairylee/status/1702248757822153059?s=20
Gistlover also claimed the same that Mohbad was hit with juju.
Days after his death, his friend, Bella Shmurda in a rant posted on the micro-blogging site, X formerly known as Twitter, noted that Sam Larry and all members of Naira Marley's record label must be arrested.
The singer who is apparently furious wrote: "In the past few days have tried my best not to carry phone and type anything but Mohbad spirit won't let me rest knowing I'm the only one make his spirit calm by making those of them who make him live in fear and almost with nothing to feed on never also get rest and he don start yes I mean wahaLa just wan start like this I NO GO GREE and I mean it Samlarry and whole Marlians music must be arrested make all of us Dey police and if the Nigerian police too weak as body to fish this people out we do it street, legal or illegal any which way like this war don start," Bella Shmurda wrote on Twitter on Sunday, September 17, 2023.
https://x.com/BellaShmurda/status/1703406691570598388?s=20
Mohbad's Burial
Late Mohbad was buried in the Ikorodu area of Lagos, Nigeria's commercial city on Wednesday, September 13, 2023, amid tears as musicians around the world and Nigerians continue to ask who killed Mohbad.
The Lagos State Police Command announced on Thursday, September 21 2023, that Mohbad's corpse had been exhumed and an autopsy carried out to ascertain the cause of Mohbad death.
Mohbad Candlelight in Lekki
The candlelight procession and tribute night for late Mohbad held at the Lekki Toll Gate in Lagos, Nigeria's commercial city on Thursday night, September 21, 2023.
However, Mohbad death is an immense loss to the Nigerian music landscape, leaving a void that will be deeply felt by fans and peers alike.